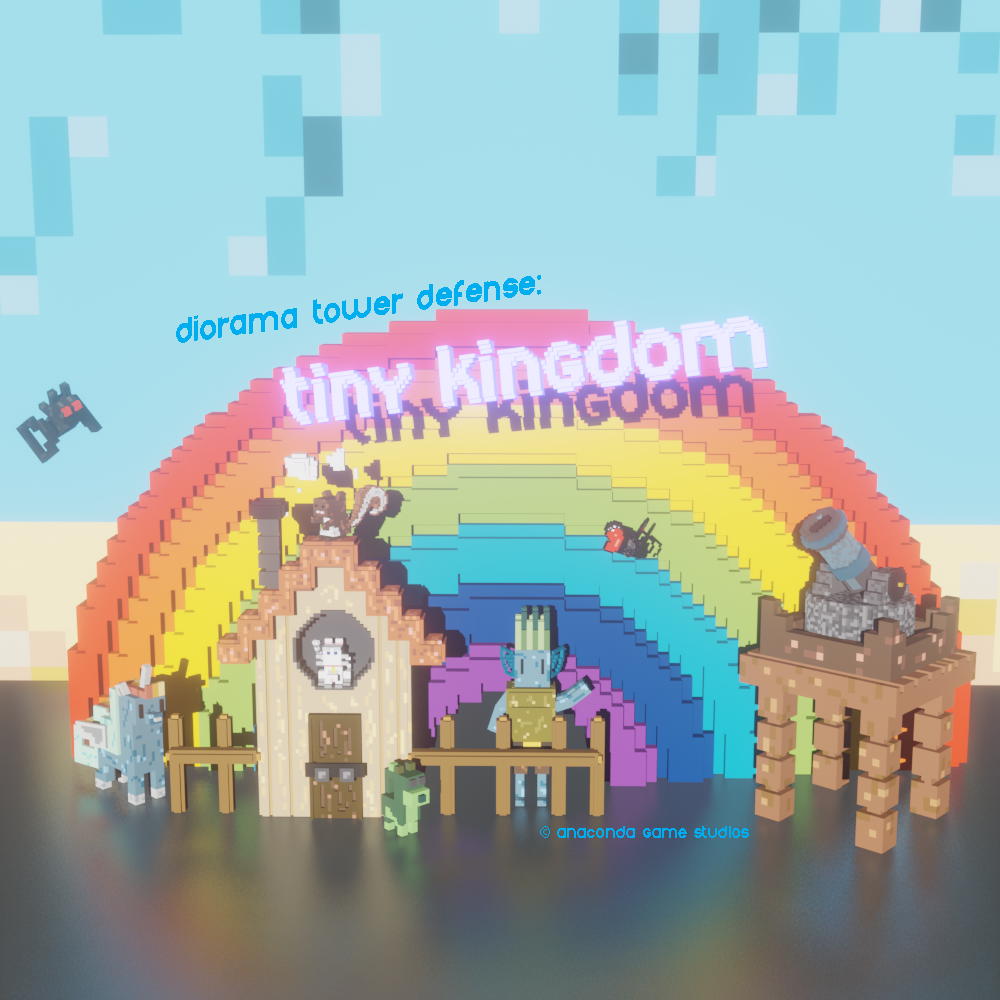 Tiny Kingdom
A downloadable game for Windows
Tiny Kingdom is a cute tower defense game of currently 3 levels. It was created within 1 week for the Brackeys Jam 2020.2. In the beginning we thought, come on, how hard can it be to build a tower defense game... uhm 1 week later... we thank whoever brought us to this final version in time. It was insane... but fun.

Diorama Tower Defense: Tiny Kingdom👑 Join our Discord: https://discord.gg/WJgwkRr

Download the updated, all new Prologue version on Steam: https://store.steampowered.com/app/1574720/Diorama_Tower_Defense_Tiny_Kingdom_Pr...
What is special compared with other tower defense games? You can rewind time to send back enemies for some seconds in time, the isometric tiny room style is unique, you can grab a tower from the playfield and place it somewhere else and we included evil rainbow unicorns!! Take that...
Definition of a tower defense game, taken from Wikipedia
Tower defense or TD is a subgenre of strategy video games where the goal is to defend a player's territories or possessions by obstructing the enemy attackers, usually achieved by placing defensive structures on or along their path of attack. This typically means building a variety of different structures that serve to automatically block, impede, attack or destroy enemies. Tower defense is seen as a subgenre of real-time strategy video games, due to its real-time origins, though many modern tower defense games include aspects of turn-based strategy. Strategic choice and positioning of defensive elements is an essential strategy of the genre.
Thank you Wikipedia.
So, how to play this game... the only tool you need is your mouse and some strategy. When inside a level you will get some coins for free to build your first defense system or tower, you can choose from the cheap archers tower, or the canon tower who shoots mines on the playfield, which of course are detonating with enemies near by, to the magicians or ice tower who can slow down enemies. Find out which tower is most effective against the enemies.
With your left mouse button you grab a tower from the right sidebar, in case you have got enough coins available, you get more coins by removing enemies from the playfield, no they are not killed, they are now in a safe place... for sure. Move your mouse cursor over the playfield and release the tower by releasing your left mouse button, if you found the right spot, the tower will snap into an available spot. To place this tower somewhere else, just click and grab it again and move it somewhere else. If you like to remove the tower from the playfield, click, grab and move it over the trashcan in the lower left corner of the screen, by the way, you get some coins back, how great it that...
To call in the next wave, in the right lower corner click on the play button, when one wave entered the playfield you can call in the next wave. But we sure and prepared that your defense system is build up perfectly.
If you built up a good defense system, you can fast forward a wave by clicking on the fast forward button. Wait, what for is the rewind button over there... as the topic of the Brackeys Jam 2020.2 is REVERSE, send back the enemies where they came from, but you only can do that three times per level.
The game is over when you lost your life, how sad is that by the way... do not let that happen! Enjoy the game and look out for more soon. Good luck!
| | |
| --- | --- |
| Status | Released |
| Platforms | Windows |
| Release date | Aug 07, 2020 |
| Rating | |
| Authors | Anaconda Game Studios, stefandy29, Ombra-Lukas, CallMeAru, Mayra |
| Genre | Strategy |
| Made with | Blender, MagicaVoxel, FL Studio, Unity |
| Tags | 3D, Atmospheric, Isometric, Pixel Art, Relaxing, Singleplayer, tower-de, Unity, Visualization |
| Average session | About a half-hour |
| Languages | English |
| Inputs | Mouse |
| Accessibility | One button, Textless |
| Links | Homepage, Twitter, Support, Community, Instagram, Pinterest |
Download
Click download now to get access to the following files: